The Genesis
Magnorail is a rather recent company that has been created in 2011 by 3 Dutch model enthusiast, gathered around a pioneering project.
The original idea comes from Loek Bronkhorst. He is an experienced modelist and developed a prototype of the H0 cyclist with his incredible pedaling movements. Arno and David then focused on creating a system built around motorized chains to move the cyclist around at the right speed. After long months of work and tests, the very first models were presented in 2012.
In 2013, Magnorail manages to include the cyclist's mechanics in a kit, making it a complete success all around Europe and even in many other countries.
In 2016, Magnorail has started to offer an interesting evolution of its chain. It became blue, in order to make the difference more visible, was thinner, slid with more ease and offered less resistance against the friction that can be met in curved roads.
The notable advantages are a possibility to make longer circuits and so to let vehicles move on longer roads.
In 2017, Magnorail announced a new starting pack full with more chain length, two return loops, 3 different motors (average, fast and slow) and an important enhancement to the cyclists to make them slide more smoothly.
Modelists can now make H0 cyclists, H0 to Z vehicles and small H0, N and Z boats move around.
Some modelists' imagination can even enable them to move around skiers, water skiers, horse carriages, etc. By the end of 2018, the 3 creators of Magnorail decided to put an end to their adventure and entrusted Magnorail to Maketis, who were their first French distributor and actively helped them promoting and enhancing this original system in France, in the course of many exhibitions.
How does Magnorail work?
The system is composed of several innovative elements:
A flexible plastic circuit in 16cm portions.
A supple chain composed of plastic links, about 1cm long and with cavities enabling the lodging of a cubic magnet.
A motor with 12V direct current, with varying speed that moves the chain inside the circuit.
The principle is that the chain with the magnets runs in the flexible circuit, under the decorated surface. The objects above the coating are equipped with magnets and move thanks to the chain underneath.
There is a clever system of transparent wheel that enables the cyclist to move his legs and pedal as it would in real life.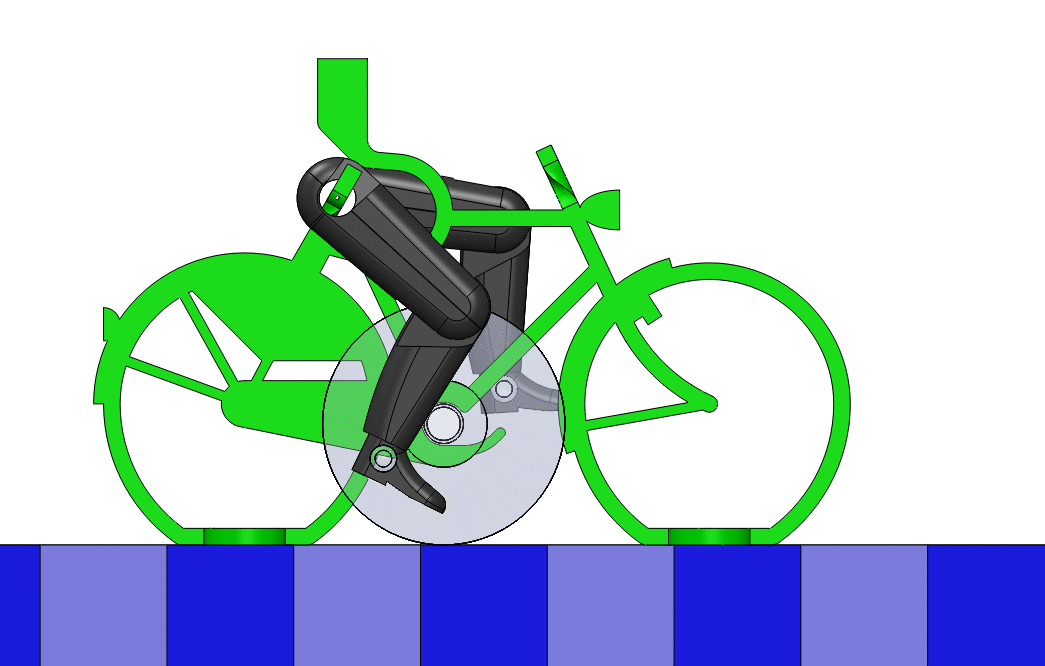 Don't hesitate to look at our tutorial in order to understand the building part as well as our Q&A.
Projects and developments
Taking up the torch of a company whose unique item is the fruit of excellent creativity and technical prowess is a challenge that Maketis is ready to rise up to. Thanks to our knowledge and good relations in the world of models, we have been able to clear the various hurdles and were able to show you, as soon as 2019, even more products in our catalog, such as our first 3D printed cyclists. Built with precision and finesse, this new way of making them is very well adapted to model-making and the new characters are now attracting strict modelists and already met a good success.
Regarding our projects, there are several on our waiting list and some have already entered the production phase (which you can check out on our News page). We strive to create ever more original products that we hope will give you great satisfaction.
Clients' references and productions
The best way to show you what Magnorail is capable of is without a doubt to show you some examples of some works from modelists all around the world!
We hope you'll have a good time appreciating the incredible imagination from these modelists.
If you wish for your work to be shown on this page, then follow us! You can find us on social media by following @maketis_modelisme (on Instagram) or @magnorail.TM (on Facebook). And don't forget you can always use #MAGNOGRAM.
We'll be waiting for you!
---
1. The accident by Johns Miniatures
Here is a great example of imagination coupled with the Magnorail system thanks to Johns Miniatures, with whom our relationship is excellent.
2. The accident, the making off by Johns Miniatures
Don't miss out on this making off, a real tutorial on how to install it all, and some explanation behind the hidden parts.
3. Magnorail meets Luke Towan
Thanks to our Australian reseller MagnorailOZ, we have been able to meet with Luke Towan and his superb installing tutorial of Magnorail.
4. Trois VTT en journée / Three hybrid bikes on a day tour
Here is a beautiful ride with three Magnorail Hybrid bikes and the Citroen HY in a loop.